Shea Butter is one of those wonder ingredients that has use for a vast number of purposes: traditionally, it's been used in Africa not only for cosmetic purposes, but also for cooking/eating, and as a prophylactic (interesting, huh?). But we'll focus on the cosmetic uses for now!

Shea Butter can be used to reduce the appearance of fine lines, scars and stretch marks, and to ease skin irritations, like psoriasis, eczema and sunburn. Because it melts on contact and is readily absorbed into the skin, without leaving a greasy residue, Shea Butter is an ideal moisturizer for any time of year and for any skin type.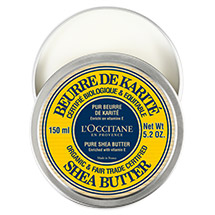 L'Occitane's Certified Organic Pure Shea Butter
(MSRP $40 for 4.9 oz.), is one of the brands best selling beauty balms, and no wonder! It's an
"ultra-nourishing spot treatment to soften even the driest skin and can be used on elbows, lips, cuticles, feet, and even hair!"
This 100% natural origin, organic certified Shea Butter is extracted from wild kernels of Shea tree fruits. It is produced in a fair trade agreement with cooperatives of women in Burkina Faso (West Africa). Certified organic and attested fair trade from Ecocert, this beauty balm helps to protect, soften and regenerate dry, dehydrated or sensitive skin. In fact, there are over 50 documented uses for it! For example:
Skin too dry in this winter weather? Rub the Shea Butter on elbows and hands.
No time for a manicure? Apply the Shea Butter to your cuticles.
Chapped lips? Use L'Occitane's Shea Butter to hydrate
Hurting paper cut or itchy scrape? Allow the Shea Butter to help you heal!
Bad hair day? Use the Shea Butter to slick back those flyaways.
Another genius (and practical) product from L'Occitane is their handy dandy Relaxing Roll-On Oil from the Relaxing Lavender line. Instead of depending on harsh chemicals and medications, lavender is a subtle choice to help relieve symptoms of stress, insomnia and anxiety. "Just a whiff of L'Occitane's fragrant lavender transports you to Provence: the vibrant colors, dramatic textures and sprawling landscape appears before your eyes." Personally, I love to use it for both myself and "the lil bits" to help wind down before bed time, and it's also come in handy for nap time too!
Until next time...