John Frieda's Frizz Ease Serum
has been a Holy Grail item for me since I discovered it in high school-I've had the chance to try many similar serums, but NOTHING comes close to the sleek finish and frizz control that his Serum provides.
After I've applied the serum, I like to make sure that it is evenly distributed throughout my tresses. I use the
John Frieda Sleek Finish Cushion Brush
to not only make sure the serum is spread out but also to gently untangle my hair. It has Tourmaline ions that help flatten the hair's cuticle so that hair is shiny and frizz free.
Another staple in my curly girl routine has been mousse. Lately, I've been loving
John Frieda's Luxurious Volume Thickening Mousse
when I want a more dramatic, big hair look. It protects and enhances the shape of my curls perfectly. I apply it while my hair is still soaking wet; I flip my head upside down and apply it from root to tip, making sure to use my fingers to gently tousle my curls from the scalp out.I'm left with beautifully bouncy, full bodied curls.
Another trick I love to implement to make the most out of my curls, is to touch up select pieces to enhance with a curling iron. This gives my hair added dimension and movement that I love (with a minimal amount of effort, which I love too).
John Frieda's Tight Curls 1 inch Barrel Ceramic Ionic Curling Iron
is great for adding extra definition and curl to any look you're trying to achieve. It gives me tight, bouncy curls that perfectly mesh and blend in with my natural curl, but still gives me the oomph I want.
Apparently I'm not the only one that turns to John Frieda for gorgeous sexy hair. Honestly, it always surprises me when I hear about celebrity/professional stylists and makeup artists using drug store products: I sort of give a silent cheer that the staples I've known all along are of good quality and give great results are vetted by the pros. In fact, celebrity hairstylist artist Mara Roszak recently turned to John Frieda products to create Kate Beckinsale's look for the recent Los Angeles premiere of the remake of Sci Fi classic Total Recall. Inspired by Kate's structured dress, Roszak created a texturized look for the red carpet that she described as "edgy and undone, with an effortless feel."
Here are her step by step instructions (including the products she used) to help you achieve this beautiful look at home:
First Prep and Texturize


Achieving the undone quality of Kate's hair relies on creating texture while preventing flyaways. Start by evenly applying John Frieda Frizz-Ease Curl Reviver Styling Mousse ($5.99 at drugstores) through towel-dried hair to tame frizz, boost shine and build texture. For added volume, spray roots with a texturizing spray and rough dry.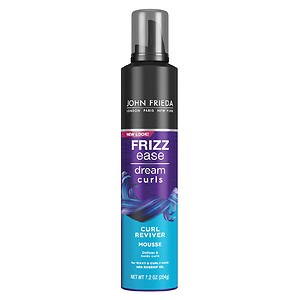 Then Secure the Style


Next, twist small sections of hair to create tousled texture. Once hair is completely dry, gently tease the crown for a bit of height. Next, pull hair back create a loose braid. Tuck the ends under and pin in place with bobby pins, crossing the pins to secure the look and make sure the braid stays in place. Allow pieces in the front to fall out and frame the face.
Finally Polish and Perfect


To finish the look, spray John Frieda Frizz-Ease Moisture Barrier Firm-Hold Hair Spray($5.99 at drugstores) on your fingertips and pinch sections while rubbing your fingers together on the hair to add more texture and break up the look. Then in an even, all-around motion, mist a thin coat of hair spray to set the look.
Will you be trying out this edgy hairstyle? It seems perfect for a night out! Are you a fan of John Frieda styling products? What's your favorite from the line? What are you excited to try out? My inquiring mind wants to know! Leave a comment below and tell me what you think. Until next time...
Ciao, XxO
PS-Some of the products mentioned were sent for consideration by the company or PR. I was not paid for this post and all opinions stated are 100% honest and my own. This post does contain affiliate links-if you choose to click on the pictures and/or text links AND make a purchase, I will receive a small commission :)